Case study 14: France: Diversification of arable crops rotations, specialised on winter crops, under oceanic situations
Cluster 3: Crop diversification in systems from Western Europe
The case study will contribute to the development of low-input systems by improving weed management and soil fertility, maintaining economic margins and improving robustness over oceanic situations. Introduction of legumes in the crop sequence and intercropping seems to be efficient in reducing nitrogen use, energy consumption and greenhouse gas emission at the same time.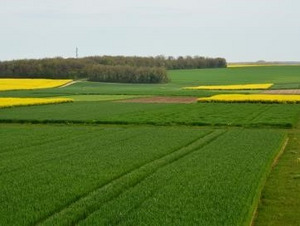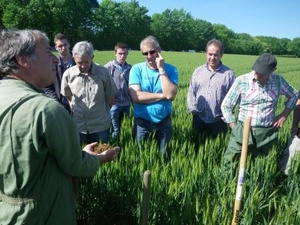 What are the main problems underlying the emergence of the case study?
Case study 14 addresses diversification of arable crop rotations for large-scale areas in France that are characterized by shallow and stony clay-limestone soils, subject to high water stress in late spring and summer. Rotations are generally short and based on winter crops only: winter oilseed rape, winter wheat and winter barley. Soil tillage is also often simplified due to the presence of stones. These cropping systems encounter typical problems such as low control of winter weeds (geranium, foxtail), insect damage (mainly on winter oilseed rape), resistance of pests to pesticides and yield stagnation or decrease over time.
How is the problem addressed and which actors are involved?
To address these problems, Terres Inovia has led a case study for about 10 years in central France (Berry), based on (i) a network of about 15 farmers wishing to be supported in the transition towards more robust and sustainable cropping systems and (ii) an experiment testing an innovative cropping system. Local partners (advisors of agricultural chambers or grain collectors and crop specialists from technical institutes) are involved through the French project 'Syppre' (http://www.terresinovia.fr/terres-inovia/actions-phares/syppre/syppre-en-bref/), and through DiverIMPACTS since 2017.
The vision for the case study, which is shared by the farmers and the partners of the network, is: 'Through the exchange of experiences and continuous learning, farmers succeed in re-designing their cropping systems in way that is profitable, sustainable, and resilient. Based on fertile soil, the systems make it possible to obtain robust crops that express their yield potential and require few inputs'.
The mission of the case study is to:
support farmers in testing innovations on their farms
help farmers observe their fields and evaluate the success of their cropping systems,
facilitate the sharing of experiences among farmers and partners, and
introduce knowledge through interactions with on-station cropping system experiments.
Solution investigated
The main solutions investigated with farmers are:
minimum tillage, permanent cover through cover crops, and introduction of legume crops to favour soil fertility,
lengthening and diversifying the rotations to disadvantage pests, and
intercropping to mitigate pest damages.
In 2018, most of the farmers changed their cropping systems. Typical current cropping systems in shallow soils are based on 5 crops, included a spring legume crop, often lentil. Yield stagnation and rapeseed insect damages clearly decreased. Improving weed control remains a challenge and further diversification of systems requires collaboration with grain collectors.
Expected outcome
The case study has social, economic, and technical expectations. The project will answer questions on how to scale out innovative cropping systems to farmers, involve collectors, and promote emerging and new supply chains. The commercialization and competitiveness of new crops should be explored as well as specific technical advice on the production of rainfed maize, pest control in intensified legume presence (Aphanomyces and Sclerotinia), and the efficient management of complex cropping systems.
Relevance to the DiverIMPACTS goals
This case study addresses situations with major problems from weed and insect damage, in which crop diversification can be a relevant solution but where the main barrier is the adaptation of diversification crops to shallow soils.
Contact
Gilles Sauzet, Terres Inovia, case study co-leader
Thibaut Pruvot, Terres Inovia, case study co-leader
Stéphane Cadoux, Terres Inovia, case study leader