Case study 24: United Kingdom: Crop diversification in protected vegetable systems
Cluster 5: Diversification of vegetable cropping systems
How can we introduce more diverse crops from protected rotations to different market channels? Many horticultural businesses in the UK are interested in driving the diversification of their protected cropping systems (polytunnels and greenhouses) and are trying out novel crops or heritage varieties. Taking the whole value chain into account, from seed availability and technical growing challenges to marketing and selling the produced vegetables, this case study will take a closer look at consumer relation and communication.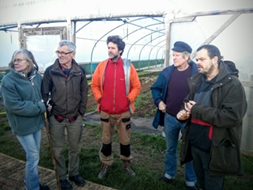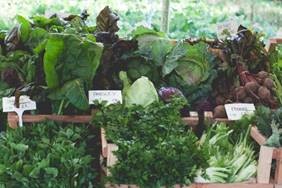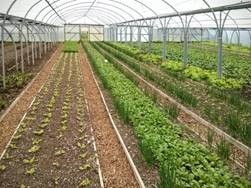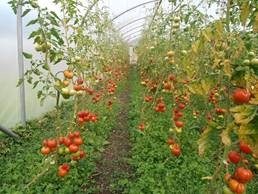 What are the main problems underlying the emergence of the case study?
Consumer awareness of the multiple benefits arising from more diverse cropping systems (e.g. environmental and societal health) is often quite low, and purchases are frequently driven by price or convenience. Tackling this question from three different perspectives, this case study will follow the innovation strategy below:
How is the problem addressed and which actors are involved?
The case study will work on the one hand with consumers and customers of the businesses involved, engaging individuals from the main marketing channels that are used: e.g. a box scheme, farm shop, farmers' market, etc. The customers from the various channels will be invited to one event per year, where the new crops and products arising from the diversifying system in polytunnels will be introduced. These workshop-style events will: 1) increase consumer knowledge about new crops (e.g. sharing cooking recipes, cooking demonstrations, taste tests and comparisons of varieties), 2) explore their willingness to pay for new products, and 3) increase consumer relation to the grower and the farm where their food is produced, ultimately aiming to enhance their understanding of crop diversification and provision of related public goods and general health benefits.
On the other hand, this case study will work with a group of UK growers to establish a network of knowledge exchange around this theme. The group will meet regularly throughout the project period to share knowledge and compare their experiences with: 1) marketing of new varieties (incl. heritage varieties), 2) introducing new crops to the market or to their customers, 3) increasing consumer engagement and communication, 4) technical obstacles of growing new, or a higher diversity of crops, 5) seed availability, 6) identifying suitable green manures or intercropping approaches, etc. Over the 4 years of the project, the members of the network commit to increasing their attention and efforts in the areas listed above and will collect information or record their experiences in their own businesses to share with the group.
And finally, the case study will monitor agronomic parameters in the diversified protected cropping systems. This will include the collection and analysis of a wider range of agronomic data and sustainability indicators. Examples of information that could be collected are: 1) crop diversity – number of species and varieties grown in the polytunnels per season, 2) soil health indicators (soil organic matter, phosphorous, potassium, magnesium, visual soil assessment, infiltration rates, compaction, earthworm counts, mycorrhiza, etc.), 3) productivity - yield and product quality monitoring, 4) sales, pricing and consumer feedback.
The key challenges identified are: a) barriers to market for some products of diverse cropping systems restrict on-farm innovation; and b) raising consumer awareness and interest: 'getting the message across' why products from more diverse cropping systems are healthier for them, as well as for their environment and ecosystem.
Solution investigated
The aims of the case study is to, together with the grower network, 1) develop practical recommendations and inspiration for other businesses and growers to increase crop diversification in protected vegetable growing systems; and 2) provide insights on the joint learning process of the group by marketing new vegetables and building closer consumer relationships.
Expected outcome
The expected outcomes of the case study are 1) farmer-to-farmer learning on this subject, 2) the co-development of practical recommendations and inspiration together with a network of UK growers to increase the adoption of crop diversification in protected vegetable growing systems; and 3) provide insights on the joint learning process of the group in terms of marketing new vegetables and building closer consumer relationships.
Relevance to the DiverIMPACTS goals
This case study provides an excellent example for innovative and short value chains, selling products at local farmers markets and a veg-box scheme, including its own processed products such as various sauces, pickles, etc. The businesses also organise regular events and fairs for their local communities, catering with its own products and food and building up and maintaining a small network of actors. This enables the study of marketing models or strategies that successfully support such diverse businesses in the food sector.
Contact
Anja Vieweger, ORC, case study leader
Abel Villa, ORC, case study monitor