Case study 25: France: Enhancing crop diversification of vegetable food chains in the Roussillon area through joined actions from farms to market
Cluster 5: Diversification of vegetable cropping systems
The Roussillon region is focused on both local value chains and export-oriented vegetable production to Northern Europe and faces therefore economic, technical and logistic challenges. Diversification was identified as a technical solution to consolidate production in the region, for instance, to deal with sanitary problems due to monocropping tendency, and as a economic opportunity.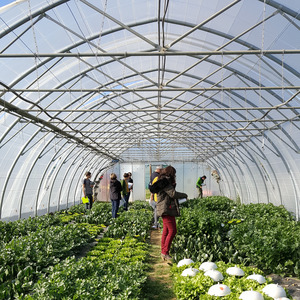 What are the main problems underlying the emergence of the case study?
Fresh market vegetable production is a historic and emblematic farming and economic activity in the Roussillon plain. From the sixties to the nineties, vegetable production and marketing mainly targeted long supply chains and were specialized in a small range of products: lettuce, artichoke, tomato and cucumber. Today, vegetable production in the area is facing several difficulties. Competition from products grown in other production areas (other French regions, southern Europe, northern Africa) is strong and has intensified since the Saint Charles international hub for marketing, transporting and logistics of fruits and vegetables is located in the case study territory. Prices are very volatile as a function of the weather conditions and/or of the supply and demand ratio. In the meantime, Perpignan and the surroundings villages are sprawling and farming areas decreasing. As a solution to the economic difficulties faced by some producers, short and/or local supply chains have been growing for fifteen years and meet consumer demand. They usually involve a larger range of products than long supply chains. Local demand is however limited compared to potential production and irregular due to tourism seasonality. Today, short and/or local and long supply chains coexist in the territory, which is seen as a strength by local stakeholders. Stakeholders however are unhappy with the lack of coordination between the various supply chains in the territory.
In this context, the case study aims to contribute to maintaining significant and dynamic vegetable production in the Roussillon plain through crop diversification targeting a diversity of vegetable food chains. Yet, crop diversification in vegetable production systems is challenging. As products are mostly sold fresh with little or no stockage, planning is critical to meet demand whereas prices are very volatile. However, two to three crops grown quickly one after the other on the same field within a year with multiple steps from 'farm to fork' (seeding, transplanting, fertilising, watering, pruning and trellising plants, managing pests, harvesting) makes planning tricky. In addition, producers are particularly risk adverse for at least two reasons. First, production costs are high due to a high share of labour costs in low-mechanised systems. Second, marketing standards are very strict and biotic or abiotic damage, which can be mitigated using appropriate crop management techniques, can quickly affect products and generate a large amount of waste if not prevented or mitigated in a timely manner by appropriate crop management techniques.
How is the problem addressed and which actors are involved?
In order to design concrete solutions to crop diversification issues on farms and through diversified marketing, a partnership has been launched between the INRAE experimental unit of Alénya Roussillon, dedicated to protected vegetable production systems, and the fruit & vegetable department of the local chamber of agriculture. Case study 25 gathers four farmers and two marketers. The farmers manage middle-sized farms dedicated totally or partly to vegetable production. They are involved in crop diversification and are converting totally or partly to organic farming. The marketers sell diverse conventional and/or organic and products. The case study aims to connect farmers and value chain actors to enhance mutual understanding and coordination. A key challenge stated by the stakeholders is to identify innovative ways of thinking and acting beyond business as usual.
Solution investigated
Three types of actions are implemented within the case study to enhance the development of diversified vegetable cropping systems: (1) capitalize, develop and share knowledge and experience on diversified cropping systems, (2) adapt if needed, and test method(s) or tool(s) to facilitate crop diversification planning and management at farm and value chain scales, and (3) stimulate reflections, which aim to design marketing strategies more adapted to crop diversification.
Expected outcome
An entry point in the case study is to give farmers the opportunity to step back in order to assess the strengths and weaknesses of their systems. The case study shall also develop resources useful for designing, planning and managing diversified vegetable cropping systems. The case study also aims to enhance coordinations both between farmers and between farmers and value chain actors in order to secure outlets for products for diversified vegetables.
Relevance for the DiverIMPACTS goals
Case study 25 aims to sustain the diversification of vegetable food chains in the Roussillon plain. Crop diversification is the main entry point and can include rotation, intercropping and multiple cropping as well as the insertion of green manure. In case study 25, to achieve the full potential of diversification, as proposed by DiverIMPACTS, value chains shall be able to create value for the "Roussillon diversified vegetable basket". Stakeholders have highlighted the need to target local and regional markets as well as more distant ones (national and possibly European markets). They have also stated that a key challenge is to identify ways of thinking and acting beyond business as usual, ensuring consistency with the aim of DiverIMPACTS to propose innovations to remove lock-ins to crop diversification from farmers to consumers.
Contact
Claire Lesur-Dumoulin, INRAE, case study leader
Amélie Lefèvre, INRAE, case study monitor