Case study 7: Hungary: Diversification of cereal-based rotations with soybean
Cluster 2: Crop diversification under adverse conditions
The case study started with variety testing in different locations of Hungary because there are limited agro-ecological possibilities in the extension of crop rotation in organic agriculture where cereals are dominant. In order to increase the economic effectiveness, agronomic elements, such as a higher proportion of N-binding plants, should be implemented and shared between farmers.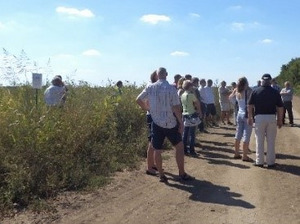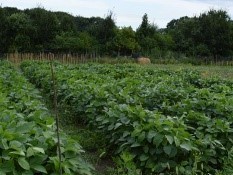 What are the main problems underlying the emergence of the case study?
Cereal crop rotation in Hungary is usually very simple, and organic agriculture diversification is a key element in cereal production. However, the economic effectiveness of organic cereals in crop rotation is not guaranteed. In order to increase this effectiveness, agronomic elements should be improved. Currently, in most of the 1600 organic farms, there are no leguminous plants in the crop rotation at all. Organic leguminous plants occupy an area of around 10 %.
There are limited agro-ecological possibilities to extend crop rotation in organic agriculture and this is why cereals are currently dominant. The case study started with variety testing in different locations in Hungary in order to address this and to increase the proportion of N-binding plants.
How is the problem addressed and which actors are involved?
Organic soybean production occupies 0.5 % of arable land in Hungary, showing the potential to increase the amount of producers. New varieties come in every year but need to be tested, and accumulated knowledge should be shared with farmers. There are plans to disseminate the knowledge and experience made by means of a professional field day or an easy to understand booklet.
The case study for variety testing was initiated by ÖMKi in 2013, which later cooperated with 4-5 organic farms, 2-3 seed distribution companies, and 2-3 distribution companies for microbiological preparations, depending on the season. In 2016, the experiment was evaluated, and recommendations were outlined.
The experiments continued in 2017 and 2018 on 4 sites with on-farm methodology (meaning that farmers used their own method to cultivate the crops) and on small parcels (unified standard technology on all small parcels). There were 6 varieties as well as soil and seed treatment tested. In 2018, we started a pioneer experiment to develop second-crop soy technology in Hungary. We managed to cultivate soya after barley by using very early varieties. The yields are between 1.4-1.8 t/ha, with over 40 % protein content. We continue this in 2019, to make complex technological recommendations for farmers based on the results over several years.
The experimental results were published in 2018 at several conferences (ICOAS, EUFRAS, ÖTÖEV), and on the website of ÖMKi.
We organized a professional day for knowledge transfer in the spring of 2018 with nearly 50 participants in the value chain. Similar events will be held in 2019. Every year, we involve new participants to find new solutions to expand the value chain.
Solution investigated
A stable connection with the farmers during on-farm experiments will be maintained, which is expected to result in better exchange and enhance crop diversification. It is crucial to support the creation of a network between farmers and seed producers and accelerate the flow of information with professional events, knowledge transfer, and publications.
Research should be carried out in the same location with the same varieties to get results that can be evaluated.
Expected outcome
The aim is to design a better dissemination method (e.g. an online platform or newsletter) to improve the flow of information. At the moment, there are two professional days per year when actors come to gather and share their experiences.
We also would like to reach an agreement with the seed distributors to guarantee that the same varieties are available for organic farmers over a longer period (currently this is not the case).
Relevance of the DiverIMPACTS goals
Our case study is part of a cluster of cases involving adverse environmental conditions. Drought, especially, can cause severe problems in the case of the inclusion of soybeans in a crop rotation in Hungary. Looking to solve these problems, we test available new varieties and investigated new inoculation products and innovative agro-techniques such as sowing very early variety soybeans as a second crop.
However, there are still many lock-ins that have to be resolved in order to integrate soybeans successfully in a Hungarian organic crop rotation. These problems are not only social and economic but also technical and agronomic. We expect DiverIMPACTS to contribute to the case study with its professional expertise and help us advance regarding the complex questions and drawbacks mentioned above. These solutions will allow Hungarian farmers to realize the manifold benefits of soybean cultivation in organic production.
Contact
Éva Hunyadi, ÖMKi, case study leader
Gerda Jónász, ÖMKi, case study monitor